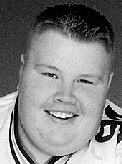 The Bobby Stark Foundation
The Bobby Stark Foundation was formed with the purpose of providing a yearly scholarship to an indiviual or individuals 18-22 yrs old. The scholarship winner will be chosen by the directors of the Bobby Stark Foundation based upon a written application.
The scholarships will go to young individuals that need assistance and are doing what they can to help their community.
Scholarships awarded

2006, Pool Tourney and Garage Sale, 3 scholarships: Total $2,500
2007, Golf Tourney and Garage Sale, 7 scholarships: Total $5,000
2008, Golf Tourney and Garage Sale, 15 scholarships: Total $8,000
2009, Golf Tourney, Garage Sale and Poker Tourney, 7 scholarships: Total $4,700
2010, Golf Tourney and Poker Tourney, 16 scholarships: Total $8,750
2011, Golf Tourney and Poker Tourney, 27 scholarships: Total $14,250
2011, Endowment to UWEC: $20,000 -- Bobby Stark Blugold Promise Fund

Bobby Stark
Bobby tragically lost his life on Saturday, February 11, 2006 at the young age of 18. Bobby was born on January 1, 1988 and was the youngest son of Bill and Diane Stark. He was a senior at North Canyon High School and was going to graduate in May 2006.
Bobby was a young man who had a talent for making everyone around him feel better. He had a quick and infectious smile that made everyone who met him feel at home. He was as comfortable speaking with you - whether you were 6 or 70.
Bobby had a tremendous love for athletics. He watched every game of the Green Bay Packers, Phoenix Suns and Arizona Diamondbacks. He studied the sports page each morning and memorized statistical information about his favorite teams. He wanted to be a sports announcer. At 12 years old, Bobby won the Little Ceasars' Announcer of the Game for the Arizona Diamondbacks. He got to announce the 3rd inning for the Diamaondbacks and did a wonderful job.
He is survived by his parents, Bill and Diane Stark, brother, Billy Stark, maternal grandmother, Nancy Hulverson, numerous aunts, uncles, cousins and friends around the nation. He is preceded in death by his maternal grandfather, Robert Hulverson of Durand, Wisconsin, paternal grandparents, Bill and Gladys Stark of Cudahy, Wisconsin and his uncle Gerry Stark also of Cudahy.